Wearing gemstone earrings is one of the most traditional and oldest forms of body adornment. Since time immemorial, women, and men for that matter, have been wearing gemstone earrings to add a splash of color and charm to their outfits. There are so many religions and cultures that have considered wearing earrings beneficial. For instance, during the Persian Empire, soldiers used to wear single earrings, wearing earrings was deemed a status symbol in ancient Egypt, and likewise, there's a plethora of other cases in point.
Jewelry pieces like gemstone earrings add value to the beauty and personality of the wearer. And when we talk about jewelry, it's not only about gold, silver, or platinum; the gemstones, designs, and styles also play integral roles. Gemstone earrings perfectly fit every occasion, as they suit casual, formal, and even party-wear outfits. With intricate designs and styles, gemstone earrings look more than merely magnificent. Gemstone earrings are a great way to complete your ensemble.
While there are many reasons why you should wear gemstone earrings, this article will talk about the most important ones. So, let's begin.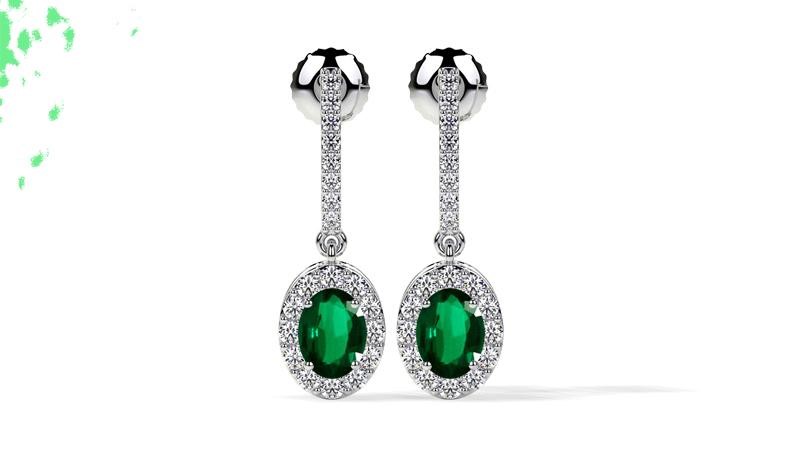 Completes the look
Why do women wear earrings? The foremost reason for it is that earrings complete the overall look. If we talk about why men wear earrings, we can say that it's because earrings act as the icing on the cake for their ensemble, but when it comes to women, it's fundamental. The glittering glow that gemstones exude adds to the beauty of women. Besides, women love to doll up, and no other jewelry pieces are more elegant and tempting than a pair of gemstone earrings with which women can enhance their looks.
Status
Just like men flaunt their renowned stature and status with luxurious wristwatches, signet rings, etc., women vaunt theirs with chic and dazzling gemstone earrings. As we have also discussed earlier, gemstone earrings have long been considered a status symbol. While some ladies prefer wearing earrings because the pair provides a comfortable finish to their ensemble, others show off their prestige by wearing opulent gemstone earrings. Gemstone jewelry is considered as a symbol of wealth. Therefore, women wear gemstone earrings not only to look good but also to show off their status symbol.
Healing Powers
You'd be surprised to know that many people wear gemstone earrings for their astrological benefits. Gemstones are said to confer astrological benefits. Since ancient times, people have been wearing gemstone earrings for their healing powers. Every gemstone represents a planet. For instance, the ruby represents the Sun, the emerald represents the planet Mercury, and so on. Gemstones boost the planetary alignment in one's natal chart. Therefore, some people wear earrings studded with gemstones to avail themselves of their astrological benefits.
Unique Style
Gemstone earrings are a great way to express your unique style. The beauty and elegance of gemstones effortlessly add sophistication to any basic look. Gemstone earrings allow you to stand out from the crowd. The timeless grace of gemstones can help you best express your individuality and gain the undivided attention of beholders wherever you go. With so many gemstones available on the market, you can easily get a pair of earrings in your favorite color. Moreover, you can even select a gemstone for your earrings on the basis of your month of birth. For instance, ruby is the birthstone for July, emerald is the birthstone for May, etc. While choosing a pair of gemstone earrings, make sure they match your one-of-a-kind style.
Positive Energy
One of the most important reasons why you should get yourself a pair of gemstone earrings is because of the positive energy that gemstones exude. Gemstones release energies that help one make positive changes in life. From positively influencing your decisions and thoughts to improving your ability to better focus on your life goals, gemstones are beneficial in so many different ways. From health to finance, the positive energies of gemstones help you flourish in all areas of your life by neutralizing energetic blockages.
Inner Peace
The anxiety and stress of our daily life can sometimes get a bit out of control. If dealing with the everyday emotional or mental pressure of your life has become quite difficult for you, then you should definitely think of investing in a pair of gemstone earrings. Gemstone earrings work wonders in bringing clarity and inner peace into life. They can also help you overcome all the negative emotions by cleansing your mind.
Sustainable
Gemstones are highly sustainable and resistant to scratches. There are several gemstones that rank high on the Mohs scale of hardness, thus, they can easily withstand the wear and tear of average daily life. The higher a gem ranks on the Mohs scale, the more easily it can endure the rigors of everyday life. Moreover, with timely care and cleaning, some gemstones can even last a lifetime. This is one of the most important reasons for you to choose gemstone earrings.
Also View: How can custom jewelry boxes help you in your jewelry business?
Personalization
The level of personalization that gemstone earrings offer is unmatchable. Right from the shape, size, color, and clarity of the center stone for your earrings to their design and metal, gemstone earrings are all about personalization. Moreover, you can even select your favorite gemstone that you best connect with. You can fashion your pair of gemstone earrings as per your preference, style, or liking. One thing that you should keep in mind is that you should choose the metal of your gemstone earrings based on your skin and tone. Selecting a metal on the basis of what's in fashion may not be an ideal choice and can also cause skin allergies.
Conclusion
Gemstone earrings do more than just add a pop of color to your outfit. From completing your look to positively influencing your decision-making abilities, gemstone earrings offer a lot. And as there is a wide variety of gemstones out there, you can get a pair of gemstone earrings in your favorite color. GemsNY has a collection of 50,000+ gemstones. Browse through this collection to find your favorite gemstones and customize your gemstone earrings now!